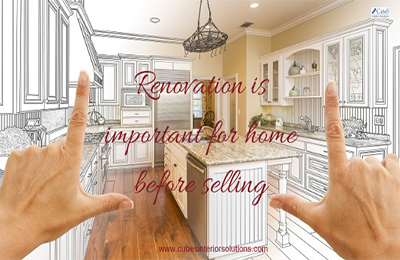 Renovation is important for home before selling
Importance of Renovation for Home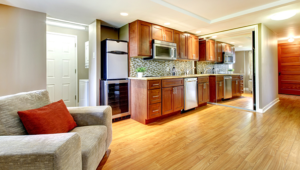 Best Interior Designers in Bangalore, Wondering whether you'll get the bang for your buck if you renovate? The question is among the long list of questions that don't have a yes or no answer.
Why ? you might ask
Because it is dependent on the situation of the homeowner, which, not to mention, varies in every case.In this article, I'll explain both sides and let you decide which way it would be beneficial to go.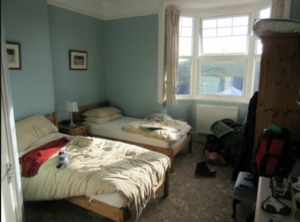 If your property has been sitting for 5-10 years, undoubtedly it will require a lot of fixing before it looks appealing to the majority of buyers. But, think twice before you start the renovation project.
Since it has been sitting dead for a long time, you might not have a clue of how much money is going to get dumped during the process. An extensive renovation can quickly turn your home into the fireplace of cash.
At this point, you might want to leave it as it is and sell for a low price. Now, you certainly can't trade it for a high rate, but it can be the right decision in the long run.
Some Buyers Prefer to Renovate Themselves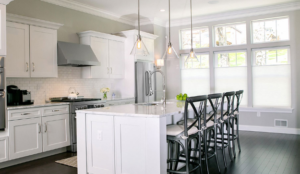 A large chunk of buyers also need a fresh home and have a lot of ideas on how they want the house to be. Right from the color of walls, up to the position of furniture, they have a picture of how they want their dream to look like.
Since they already have a picture in mind, it would be difficult for them to change the layout as per their needs, therefore, they might turn to a home that has space.
Define Your Target Audience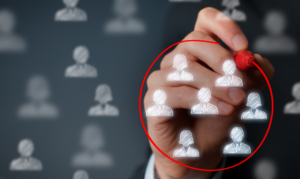 Since you're in one way or another selling, you need to figure out what demographic are you targeting. If you designed the whole housekeeping the family in mind, you need your property to be near school, hospital and similar amenities. If your target is young influencers, you want the rooms to be spacious and so on.
As a seller, you need your product ( house ) to be exactly how your target audience needs it to be.
What Sells?
Two significant spaces that sell well are master bathroom and kitchen. If you want to upgrade your home, focus on these two. Don't do too much; you might not get money back with over improvise. Do simple upgrades like lighting, faucets, cabinets and similar things. These are not very costly but do give a fresh look.
You can also appeal to a lot of buyers by opening up your kitchen. You'd have to remove the wall between kitchen and living area or bedroom or get rid of any overhead cabinets or fake wall that are blocking the view.
Why You Shouldn't Renovate Just To Sell
A home renovation is done primarily for two reasons: to make it look better or to make it more useful, but here is a point, let's say you like a big cabinet in the kitchen, but what if new owners don't?
If that becomes the case, you'd have to be torn down your new cabinets ( which by the way you spent a lot of money on ) and suit their need. I don't know anyone who'd buy a flat without having a plan in their head. They are buying "their" home, they want it to reflect how they are and hence need customization.
The style is subjective, what is cool for you can be trashy for someone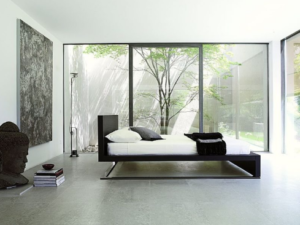 Make it energy efficient
A lot of homeowners think that upgrading their looks will pay off. Well, I can't say it isn't true, but investing in home efficiency might get you more returns. According to a survey done by remodelling.com, 116% of the cost of attic insulation is recouped. And this is only one among the list of efficiency upgrades you can make.
If you do spend on making the house energy efficient, make sure your realtor markets it that way. You need to show your potential buyers by telling them how they will save cost in the future by paying a little more upfront.
Work on Exterior
First impressions matter. Your first impression is when a buyer pulls up to your home. A lot of realtors believe exterior is one of the best bangs for your buck.
With that being said, you shouldn't be spending a ton of money on the exterior. You can start by merely power washing the exterior and then work your way up. Studies show that Even major updates can pay off later. You can recoup 93% of adding stone veneer, and 91% of the new entry door and so on.
Budget-friendly kitchen remodels
As per studies, 80% of buyers consider the kitchen to be their favorite room which makes it a right decision to spend in a good kitchen. When you have an updated kitchen, people can ignore some outdated areas.
Remodel Bathroom
If you haven't updated your bathroom, that can be one area where you'd want to work at. After the kitchen, the bathroom is the number one thing people see in most homes.
Even small bathroom updates can provide 102% ROI, and they don't take a lot of money to be done.
Nancy Wallace, a licensed real estate broker, says "Consider re-grouting tile; remove and replace caulk around the shower, tub, and toilet areas; and maybe it is time to replace the toilet for a more efficient and modern look," she also adds "Replacing mirrors and fixtures will also go a long way to improve the look and feel of the bathrooms."
It's also advised to change plastic tub to tile shower. If you convert a five-foot tub into a tile shower, it will cost a lot, and you get no more than 84% back when you're selling it.
A new coat of paint
Paint comes among one of the cheapest upgrades you can offer which gets your best return on investment. Interior designing can get you 109% return on your investment. If your home colors aren't familiar, this return can be higher.
Fix your flooring
A lot of people are now placing premium hardwood floors. These not only add an aura to your space but if you do it correctly, you can sell your home at 2.5% higher to the sale price. Hardwood installation is costly, but you can recoup 80% of the cost when you're selling it.
If you don't have deep pockets or running low on funds, focus on replacing floors in public areas, this includes living room, kitchens and opting for a carpet in the bathroom.
Read More: Top Home Interior Designers in Bangalore