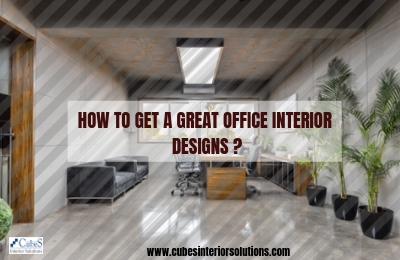 HOW TO GET A GREAT OFFICE INTERIOR DESIGNS ?
AN ULTIMATE GUIDE FOR A GREAT OFFICE INTERIOR DESIGN
"An office is for not dying. An office is a place to live life to the fullest; an office is a place where dreams come true."
An office is the tangible or the physical form of your dreams and vision. It speaks volumes about the 'purpose' of your business. Don't you make it a point to be presentable for a professional meeting?
Similarly it is important to have an office interior which strikes an overpowering impression. It is proven that first impressions are made in the initial 30 seconds of meeting someone. And first impressions have a lasting impact on people.Hence make sure your office makes the most of those 30 seconds.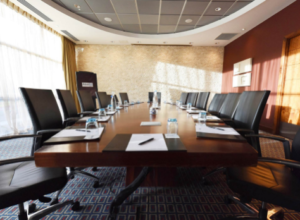 Best Interior Designers in Bangalore
At Cubes Interior Solutions who are recognised as the best interior designers in Bangalore, our expert designers will give that touch of Midas to your interiors making your office a cordial and welcoming one!
All an employee wants is, to feel  that  sense  of  'Home'  from  their  workspace.  Remember  Happy  team, Happy  business!  Work  space  interiors  majorly  contribute  to  the  productivity and  the  health  of  the  company.
Help  us;  help  you  make  your  company  a healthy one!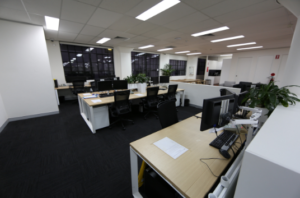 Office Decor
Along with creating a significant impact through interiors, the next most important function of an office decor is to make the place where people will want to work with enthusiasm. Yes!
Interiors have the super power to elevate the mood of your employees which will in turn effortlessly make them, work at their best potential.
It  is  rightly  said  that,  "Doctors  save  lives  by  constructing  a  healthy  life and interior designers save lives by constructing a life worth living." We create interiors which will help your company reach magnificent heights.
Do   You   Wish   to   Instantly   Boost   The   Productivity   of   Your   Firm?
Refurbishment of your office interiors is always a right idea. A functional and amiable workspace is the environment everyone enjoys working in.
The role of an  interior  designer  is  to  make  the  workspace  interior  a  fun,  productive, engaging  and lively  place  to  work  in.  We  bring  to  you  the  ultimate guide for great office space designs.
Here   is   a   bunch   of   handpicked   elements   and   how   to   use   them effectively, which can transform your workspace into an exceptional one.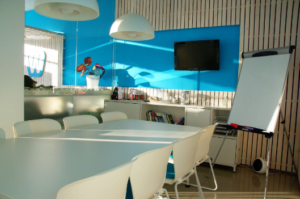 The Open Strategy :
The  open  space  strategy  eliminates  the  shackles  of  office  separation. This style of decor gives a sense of space to the workers. Nobody wants to be watched all the time. An open space gives that  perception of  being free and being open.
Open spaces promote creativity. When the cubicles are undivided it gives them a vibe of equality and hence upholds the spirit of teamwork.
With a design like this everyone can now feel a part of the team! And that boosts the work satisfaction in turn increasing the efficiency of the team.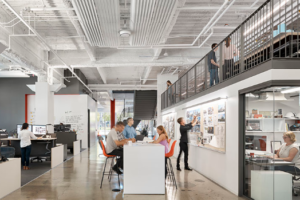 Compact and Confined Cubicles in Offices
Research says that compact and confined cubicles in offices can have a negative impact with regard to the psychological or social criteria.
Open spaces are  proven  to  spread  positivity.  The  key  is  to  strike  a  balance  between providing  a  sense  of  intimacy  in  open  spaces  and  a  sense  of  immense  in compact spaces.
Huge open workspace can also have its cons because of the exposure to busy environment. While some thrive in an open environment while some can get easily distracted, reducing their concentration skills.
Hence the work of the interior designer is to capitalise the strengths of the 'Open' plan and overcome its weakness by making the interior functional. The right interiors will bring a smile to the face of your employee!
The magic of lights:
Do you know that lighting plays a crucial role in decision making? Yes! You  read  it  right.  Lighting  has  the  ability  to  play  with  your  psyche.  Brighter lighting  helps  people  to  respond  in  a  more  profound  way  in  comparison  to dim/gloomy lighting.
It's a given that spending time in a dimly lit room causes irritability  and  restlessness.  Effective  illumination  helps  in  the  well being  and efficiency  of  your  staff  and  also  helps  you  make  a  great  impression  on  your clients.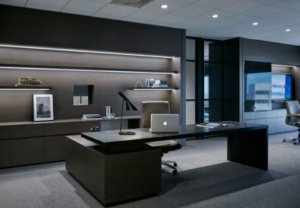 Smartest Way to Enhance Your Decor
The smartest way to enhance your decor is to bring the exterior into the interior. Let the sunshine in!Designing the interiors in keeping the ventilation aspect in consideration is  of  paramount  importance.
Natural  day  light  is  one  of  the  best  assets  of  a workspace  design.  Huge  windows  bring  in  the  natural  light  which  not  only provides several psychological and health benefits but also helps you in cutting the cost on the artificial illumination.
Studies say that, good natural light in a workspace  can  increase  creativity  by  15%;  sales  and  productivity  by  40%.  At Cubes Interior Solutions, we use the most cost-effective lighting too.
In the quest for great lighting, don't end up over-illuminating. They key is to add lighting which is suitable for all kinds of tasks. Lighting should serve the purpose  of  optimising  the  given  space.
Lighting  has  flexible  features  and  it needs to be flexible for different interior needs.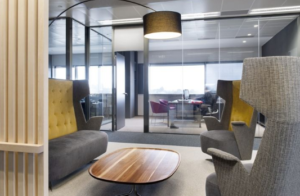 Ornament Lights
You can hang  huge  over sized  ornament lights for areas of importance like the meeting room or the get together halls.You can add the Dim lighting in small booths to give a homely vibe. Colossal Spotlights can be used on the stairways to give directions in a unique manner.
Unwinding   areas/break   out   zones   and   lounges   can   be   styled   with aesthetically appealing lights of different shades and sizes to increase interest.
You can also bring in table top lamps or standing lamps which the users can have access and control over according to their convenience.
If  you  are  looking  forward  to  give  a  refreshing vibe to  your  workspace contact Cubes Interior Solutions the best interior designers in Hebbal to make your office a place of sheer bliss.
Versatile Working Environment:
Break the clichéd 'table and desk' office decor and switch to something innovative and exciting.  Comfy interiors and out of the box  decor is the new style of workspace interiors.
This one of a kind decor will give a character to your  office  uplifting  the  company  culture  and  goals  in  an  interesting  way.
Variety  is  the  spice  of  life. And  by  bringing  in  elements  which are  out of  the typical office interior norms are bound to work like a charm.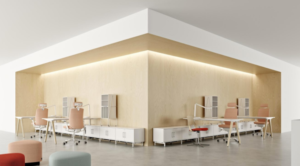 Google offices are one of the best examples for bringing the innovation in  the  mundane  workspace  interiors.  The  interiors  in  Google  encourage  and empower individuals to work at their best potential.
The interiors here tend to promote communication, improve interaction and movement.
Lack of creativity can make a place unwelcoming and can end up making the routine tasks feel even more boring. You don't want your employees to get frustrated  out  of  boredom,  do  you?  Add  a  tinge  of  innovation  to  transform your space into a stunning one.
You can add tables with cushions which will give the feel of a home away from  home.  It  is  crucial  to  design  interiors  with  respect  to  the  needs  of  the habitants.   Its   time   you   surprise   your   employees   by   providing   them   an environment to work like a boss.
Color Works!
People  prefer  to  live  in  colours!  People  tend  to  work  better  in  an environment  filled  with colours.  It  is  exciting  to  change  the  color  palette of your office interior time and again.
Colors fill the place with light and energy and that's exactly what an ideal workspace should radiate.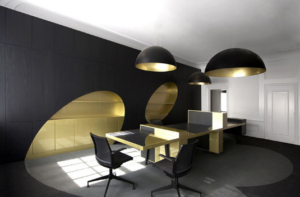 Colors have an impact on productivity, connectivity and mood. Here is a list of the perfect office interior color scheme. Colors and textures are the most influential blend of interior designing. Make your workspace an energetic hub where creativity flows.
Colour schemes have the power to inspire and ease your workforce.For tranquillity and calm air go for the hues of green. Green also increases concentration and stabilises the emotions.
Soothing and Healing Nature
The universally liked colour – Blue is known for its soothing and healing nature. It also emits creativity and clarity of thoughts.For high energy flow, consider the yellows and oranges! You can add a ray of happiness and sunshine with these hues.
These mood lifting colours induce excitement. These colors are cheerful and tend to have a lasting impact on both the visitors and the employees.Orange is the colour which celebrates life.
Bring warmth to your workforce with orange but make sure you don't overdo it. Use Red for charging up your brainwaves.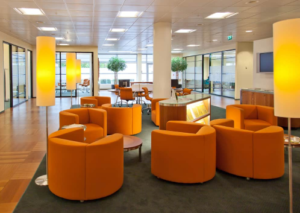 Add the nature
Use of plants is the key element of modern interior designing. It is not only the popular form of decor but also a smart one because of its numerous benefits. Adding greens to office interiors will improve the health and productivity of your company.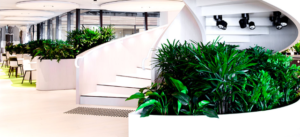 Plants are proven to reduce stress and anxiety which is extensively faced in a work environment. They calm you down and help you remain self-aligned.
Plants can increase your productivity to a new level because it plays a vital role in increasing focus and creative thought processes. They also help in making your space an aesthetically appealing one.
Now the question is, how can you use plants to enhance your workspace interiors? Make sure you don't clutter the space with too many greens. In huge meeting rooms a large plant can hold the rest of the decor in harmony.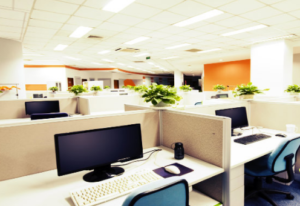 Smaller Plants Makes Your Space a Beautiful
On the other hand using smaller plants makes your space a beautiful one. Make sure the designs of the pots are in accordance with the overall interiors.Let there be flow of fresh air and thoughts in your workspace interiors which will empower your workforce.
Let your interiors make a profound statement of the culture and goals of your company. Interiors thrive to highlight the purpose and vision of your business.
Be it refurbishment or starting from the scratch, Cubes Interior Solutions, the best in business, is here at your service to give your workspace the right amount of interest and impressive factor while creating a 'home away from home' for your potential employees.