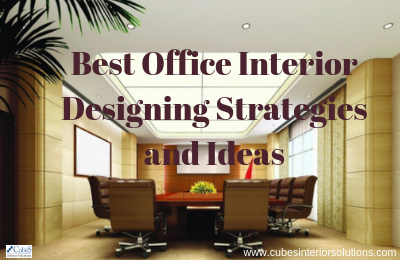 Best Office Interior Designing Strategies and Ideas
Brilliant Office Interior Designing Strategies and Ideas for a cordial and welcoming workspace!
A business starts with a dream and an idea. Then you work on shaping that idea and evolving it into existence. You invest yourself in this process and ultimately you see that dream come true, right in front of your eyes.
Your office represents all the perseverance and hard work you put in each and every day! An office is a place where ideas bounce and develop. Hence, your workspace needs to emit creativity and promote productivity.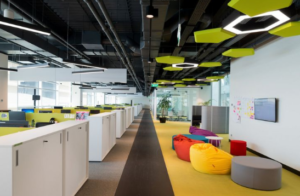 Cubes Interior Solutions has successfully Established as one of the best interior design company in Bangalore. Cubes Interior Solutions has extensive expertise in Turnkey Interior Services too. We work from scratch and take up the entire responsibility to create a 'ready to move-in' space which exactly fits your comfort and expectations.
We save you from the unnecessary hassle and provide you a working habitat which is beyond just the white walls and huge windows. And to know how we do that, keep reading! We present an ultimate guide to transforming your office into a place where people will want to work with their hearts and total dedication.
 

Create a Vision
Your office needs to reflect your company's personality and ethos. Your office literally needs a personality of its own in order to stand out in this era of intense competition. Ironically, this concept is significantly underestimated.  You need to incorporate interiors which convey the essence of your company. For instance, you can add an element in the office which tells a story behind the initiation of the company. Cubes Interior Solutions is an established top interior designer in Bangalore, who is a pioneer in conveying the essence of the firm in the most effective and creative way. With the extreme desire to be different, make sure you don't try to be something you are not!
 

Use colors like a pro!
In interior Designing, Colour is a vital functional element. It shapes our mental and emotional state of mind. Colour is a very potent communication tool specifically in an office where a lot of thinking and other cognitive processes take place. Have you ever thought why major food chains like KFC / Mc Donald's have incorporated the color 'Red' in their interiors? Because Red not only evokes strong intense emotions like love, courage, strength but also increases a person's appetite.
Orange is a buoyant color, it elicits excitement, activity, socialization, endurance, and enthusiasm. It also creates room for great conversations. People usually tend to associate this color with positivity because they relate it to the sunrise and sunset. In an office setting, addition of hues of orange in the interiors can create a lively atmosphere.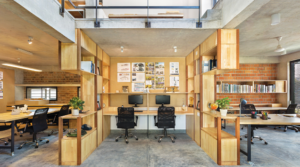 Where Orange and yellow signify excitement, Green strikes a balance by evoking calmness, tranquillity, and clarity. It has the power to make one feel less tired during an intense workout, so imagine what wonders it can do to one's competence. The efficiency of the workers increases when they are in a peaceful state of mind. Hence adding 'The Green' in your office decor will make a huge difference!
Blue is a color which is universally liked! It's a great choice for a workspace decor as it is associated with intelligence, encourages thinking and also boosts performance.
A tinge of Black can be used in the cabin of the person in authority as it echoes 'power' and 'sophistication'. Remember not to overdo it.
Create an Eco-friendly environment
It's always a good idea to add plants to your decor. It creates a stress-free and refreshing environment for the workers. It spreads positive vibes which help in focus and proficiency. Also, a sociable environment can be created by designing a small library, colorful lounges, play areas, cafeterias which will help the workers unwind and perform so much better!
The light which feels right!
Proper illumination is mandatory for a workspace. Avoid lights which are too bright or glaring and which create unflattering shadows. The lighting should be functional and flexible. It needs to seamlessly blend with the design of the place. It should minimize shadows and enhance the mood.
The little things!
Business is a team sport. It is a journey where you walk together. It is very important for the employer to have a good relationship with the employee. There is no rocket science behind this. The key is to pay attention to the little details.
You can add a piece of Art or canvas, design chairs, and desks which are comfortable for working and appropriate installation of the windows to facilitate energy flow.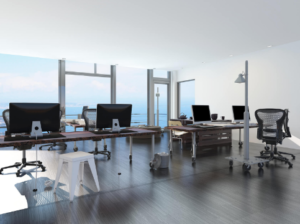 Create a sense of equality, freedom, and dignity of labor by having 'Glass integrations' instead of the traditional compact division of desks. Bring out some creative and innovative decor for the office to make it welcoming.
Just by providing optimum conditions and innovation one can increase the work satisfaction of the employees and productivity of the company!
You visit a Doctor when you're unwell and hire a lawyer when you want to defend yourself in the court. Yet you tend to underestimate the importance of designing your workspace. The craving to be different often leads people to end up creating a clutter which makes a place unfavorable to function in. Creating a phenomenal impression in a minimalistic way is the work of an interior designer.
At Cubes Interior Solutions, we believe that a person needs to connect with his workspace on different levels. We want people to enjoy what they do. We want them to find contentment in their work. Unity is the key to a successful business! Hence we create designs that promote unity and inspire creativity, which makes us one of the best interior designers in Hebbal, Bangalore.
If you'd like your office to reflect your values and personality get in touch with Cubes Interior Solutions to get a transformational lifetime experience.