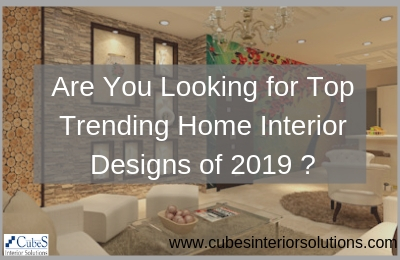 Are You Looking for Top Trending Home Interior Designs of 2019 ?
20 Trending Home Interior Designs of 2019
New years, New resolutions, new me, new life ; aren't we all fed up of listening to this? It is April already and have you actually followed your New Year's resolutions? Well, you know the answer! You can't change yourself overnight but what you can change overnight are your Interiors and lifestyle which acts as a catalyst for a happy and contented life!
While the greys are out, the Bohemian styles are in, the classic designs are given a modern take now.  The fusion of traditional and modern interior designing has reached another level this year.
Cubes Interior Solutions , the Interior Designers in Hebbal present you the most stylish interiors and the trending designs which are big on the home front this 2019!
The Bold Affair
Allow yourself and your interiors to be unapologetically bold!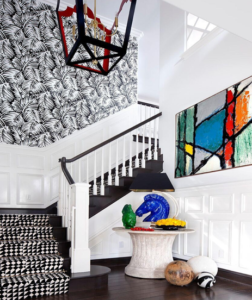 The bold textures, patterns and colors are drooling this year. The detailed interior designing elements in this decor are striking and intense. An interior like this stands out and shines bright just like your charismatic personality. Chequered patterns, colorful palette, floral fun and preservation of simplicity through mild neutral colors of black and white make this design a blockbuster one!
The Black Beauty!
Color 2019 with Sophistication, color 2019 with Black!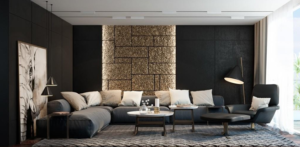 It is time to add the most majestic and urbane color to your home interiors. The forte of the color black is that you can use it along with the blend of neutral colors; it also gives you the liberty to experiment with versatile textures and other forms.
A 'black' living room is a heart stealer. Play with black for a 'feel good' and rich home interior. This design is quirky and stylish making it an instant eye catcher which never fails to impress your guests.
Plush Tt Up!
This year, fight the 'blues' of your life with the 'pinks!'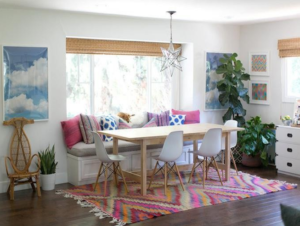 There is nothing that a pink cushion can't fix! The subtle shades of pink, peach, blue and yellow are trending this year.
A carpet with details of refreshing patterns and color palette adds an amount of pleasant vibes to your living room. A sitting area filled with lively colored cushions are a cordial and amiable decor. This style of interiors is an ideal home decor which suits every nuance of your lifestyle and taste.
The BOHO Twirl
The bohemian magic is back with a twist!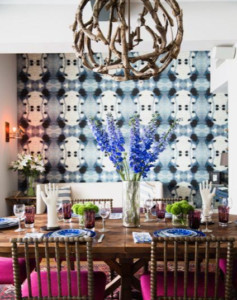 Are you a digger for the cool, laid back and warm vibes of the boho style? This is the design for everyone who loves the earthy style of decor which consists of raw and natural elements of interiors. The quirky background of blue patterns gives a playful visual while the hanging wooden pendant is holding the rest of the dining room in harmony. This cool and concrete design will enhance your space into a lively habitat.
Contact Cubes Interior Solutions, the best interior designers in Hebbal and the whole of Bangalore for some inspiring ideas to add to your boho-bag of decor.
The Dark Magic!
Dark colors have a charm of their own, which will floor you!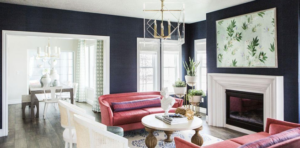 Dark colored walls and the tinge of neutral colors is what your home needs this year. Renovate your house into this luxurious design. Fill your year and life with elegance. This design is modern and surreal. The dark blue is complementing the classy whites, while the shades of pink add the right amount of interest into the picture. This design can be considered as the perfect go-to style this year as it is suitable for both compact and massive spaces.
The Black-Room!
The ultimate sophisticated bathrooms are here!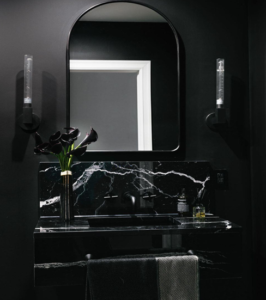 As said earlier, black is indeed the color of 2019 and black has successfully invaded into your bathrooms as well. These chic and stylish bathroom interiors are a 'love at first sight' kind of design.
Bathroom decor will not be taken for granted anymore. This year pay that extra attention to details with regard to your interiors. It is time to step up your bathroom game. Make your home a place which promotes creativity and wonder.
Add an interesting feel to your space. Break the clichéd style of decor and switch to something fresh and exciting. Fill your interiors and life with excitement and surprises.
The Game of Woods!
Welcome back the stunning wooden decor this year!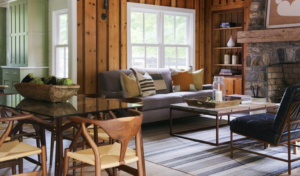 This design highlights how beautiful and attractive wood interiors can be. Wood can never go out of style. When used appropriately, its versatility can transform your home in the most profound manner possible. Wood makes a space look sleek, polished and most importantly comfortable to dwell in.
Install this retro futuristic living room today! Not just in the living rooms but when wood is used in the bedrooms and kitchen areas tends to give a soothing appeal. In a nutshell, usage of wood in your interiors keeps the space fresh and full of positivity.
Get in touch with us to try wooden accents for your home.
Charm of Mirrors and Hand-Made Decors
When God gives you hands, make something Hand-made!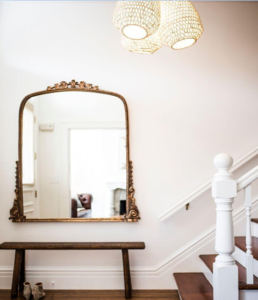 Addition of mirrors always gives that extra touch of opulence to any given space. Transforming mediocre spaces into a special one is what mirrors do and hand-made decors are popular, new and trending. Raw looking chandeliers, huge mirrors with sleek borders can instantly enhance the mood of your home.
Mystic White
Make your own little spiritual world called 'Home.'
White's are classy. White's with hues of different shades are trendy! A jute coffee table adds the interest factor along with the positive whites and blues here. A simple and minimalistic design is ideal for you. Allow simplicity to radiate in your den.
Tin – Fun
It is time to embrace the Tin in our lives.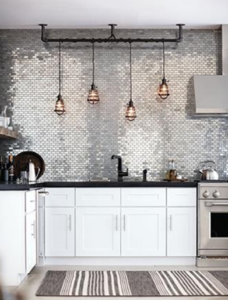 The tin interiors which weren't in vogue since decades are now in limelight all over again. Usage of tin in interiors is the most cost effective way of enhancing your home. From Tin panels in the kitchen to the Tin ceilings of your living room, there are a number of ways to bring tin into your interiors as it is friendly with all other kinds of decor elements.
Paint the Floor!
Rock the floor baby!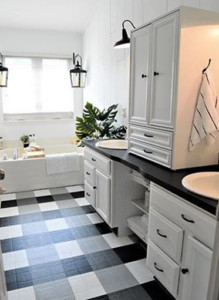 No matter how extravagant your interiors are, boring flooring will overshadow the other attractive designs around. You can enhance the entire look of the space by merely just creating an interesting floor.
You can experiment with a variety of patterns from chequered to floral ones. It is time to add spice to your interiors and renovating your floor is always a good idea. For expert advice on attractive and economical flooring designs contact Cubes Interior Solutions .
Contemporary Fire Places
Warm your inspiration with some sleek fire places!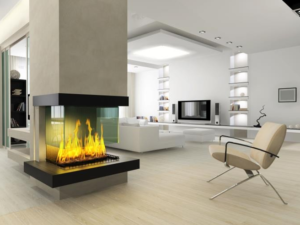 Minimal fire places are so last decade! It is time to be extra! It's time to bring in opulence into our lives with these contemporary fire places. Now the fireplace has become an element which holds the decor in harmony. This gives a modern look to your home which perfectly mirrors your cosmopolitan lifestyle.
Wall Lamps and Wow!
Let there be light shared among us!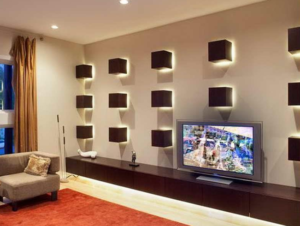 Make way for modern illumination. Far from the old fashioned lights now we see an updated way of using lights in the interiors. Wall lamps are a very smart way of adding life to your interiors. Lights when used in the right manner can make your place an enlightening one. It gives a modern spirit to your traditional style of decor too.
Smooth Stunner
Curvy and smooth edges interiors are the go-to!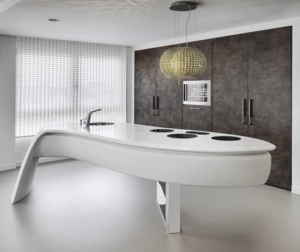 Be it your kitchen interior or your bedroom, gone are the days of boxy and sharp edges. The major change which occurred in the field of interior designing is that along with the age old aesthetical need, now the focus is shifted to comfort and functionality.
Comfort is the priority now. This was initially a happening decor in the 60s and 70s which has now made a huge comeback debut again. This is one of the most popular commercial interior design too.
Colossal Ceilings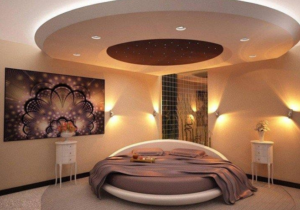 The easiest way to transform your home is the usage of false ceilings. It not only promotes creativity but also is aesthetically appealing. It makes your space a special and unique one. False ceilings will never go out of style and it only gets better with the addition of modern elements to it.
Earth Palette
Get closer to the earth this year!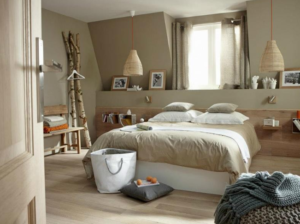 This is the most popular home design of 2019. This earthy toned color palette is the perfect choice for your home. The combination of grey and beige gives a subtle aura. This palette fits perfectly with all the other accent colors. Switch to this design as one can never go wrong with a softer palette.
Nature and Nurture
Find solace in nature!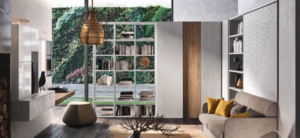 This is the year to unwind and unplug and for that you don't have to go on a vacation instead create your own de- stressing space. A home is a place that nurtures your soul and plants are the source of healing energy. Let energy and your thoughts flow freely in your cocoon. Give wings to your thoughts. Let yourself loose. Let yourself go. Bring in a change of absolute solace to your home.
Urbane Farm House
Imagine residing in your 'Vacay' house for the entire year?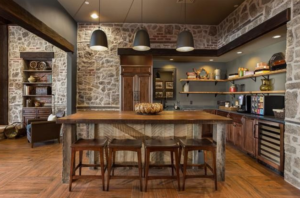 You don't have to wait for the entire year to go chill in your farm house. Create your own escape space right in the middle of the hassle.
Dwelling in a positive interior like this will help you in ways one cannot conceptualize. This design is adored by all and it gives an exceptional living experience to its dwellers.
Dreamy Theme
Customize your interiors according to your taste.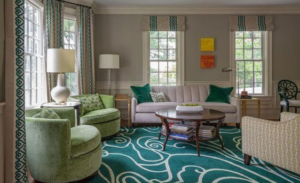 This design is the most organised and functional of all. It radiates impeccable level of perfection. The hues of colours used here are refreshing and the symmetry is soothing. The theme of the entire decor is simply surreal. The design of the curtains is beautiful and tends to complete the look of this dreamy interior design.
Best Way, the Minimalist Way
Less is more!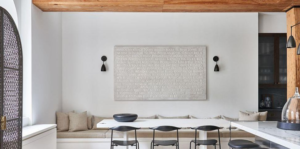 This design proves that with simplicity comes beauty. This design is the easiest, smartest and quickest way of enhancing your interiors. This is simple yet sound as it is both functional as well as a treat to the eyes.
Hope you all enjoyed reading these hand-picked home interior designs which are in the vogue.
Contact Cubes Interior Solutions for any query or advice, to transform your space into a place of joy and innovation, into a space which brings a smile!