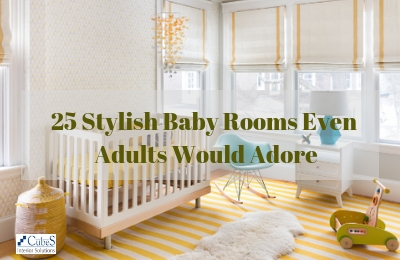 25 Stylish Baby Rooms Even Adults Would Adore
25 Stylish Baby Rooms Designs
Raising a healthy, good and successful child is the dream of every parent. Every parent desires their child to be humble, ethical and caring. Raising children is indeed a boon to the mankind. We as parents have the superpower to shape these individuals for a better tomorrow. Isn't that the sole purpose of being, to raise a legacy of excellence? Cubes Interior Solutions, who are recognized as the Best Interior Designers in Bangalore helps your legacy, to dwell in a home which brings out the best in them. Our designers strive to create phenomenal spaces which every child dreams waking up to. We style interiors for your child's sweet, dreams.
You spend so much money to make your home safe and comforting for your child and yet fail to give significance to the interiors of their room. Your house is a space which teaches life lessons and offers truckloads of memories to your off springs. The baby room is considered as the busiest and messiest space of the house. We know that the main objective of the baby room is safety, effortless functionality and comfort. It is true that a well designed room can do wonders for your child.
It is proven that a child who is nurtured in a calm and comforting environment is more likely to grow up to be a healthy and happy child when compared to the ones who are devoid of a calm surrounding. This affirms that the interiors play an essential role in the growth of the children.
Here is a list of specially chosen Baby room designs by the experts of Cubes interior solutions. We strive to be an efficacious catalyst in providing the best environment for your children.
You adults will want to steal these designs for your rooms. Watch out!
1) The Colour Power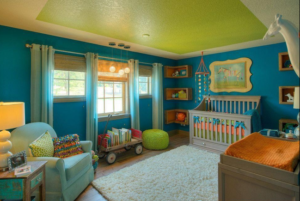 Children absolutely love colours. In fact colours personify children. And also you need to know that colours are not randomly used when it comes to Interior Designing. Every colour has a significance and purpose. Imagine your child waking up to this colourful sight, it will instantly perk up your child's mood!
2) The White Nest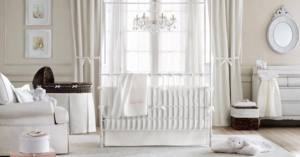 The colour white is known to give an invigorating freshness which is exactly what the baby-environment demands. This well-designed and well-ventilated interior promotes an airy appearance which is pure and serene. The psychological effects of this design promote a refreshing and healthy aura for your child.
3) Happy Greys!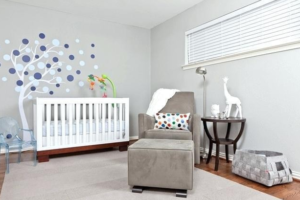 No more gloomy greys and days because you have a beautiful addition to your beautiful family. This design is a blend of shades of grey along with white as its accent colour enhancing a mediocre space into an extraordinary one and the classic arm chair completing the interior in style.
4) Yellow Bond!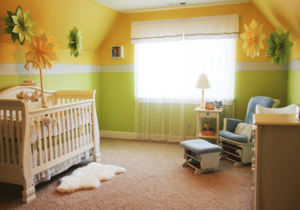 Does yellow make babies happy? Yes! Yellow gives an optimistic and bright air to the interiors. Here is your chance to bring the sunshine and happiness on the walls of your baby's room. This decor provides a healthy and cheerful environment for your little one.
5) Animal Buddy!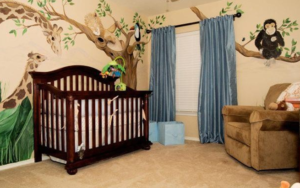 Ever wondered why the interiors of the children's room often highlight animals? Because animals make babies super excited and happy. Create a cheerful space and give your baby a lifetime experience of joy and peace.
6) Hey Superstar!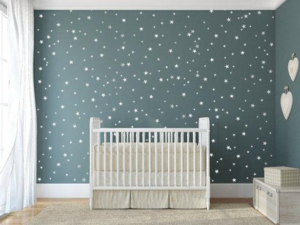 There's a superstar in every child. It is the parents who have the ability to bring out that superstar and leader in their children. Let your child wake up to the stars and believe in their dreams, always and forever.
7) The Wallpaper Bliss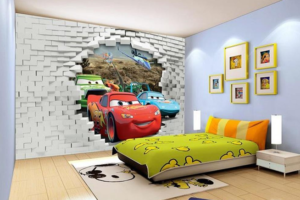 This interior is a perfect choice for your growing child. Let them experience a new world in their own little world. Addition of a wall paper gives the element of interest and creativity; hence it stimulates your child to think creatively from a tender age.
8) The Playful Patterns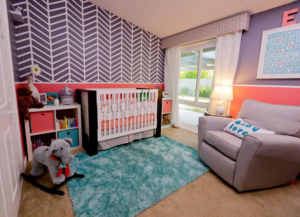 You can play with different patterns and contrasting colours in order to give an interesting look to your baby's room. This interior is both perky and cosy at the same time. It's a fun interior which your child will definitely love.
9) Refreshing Hues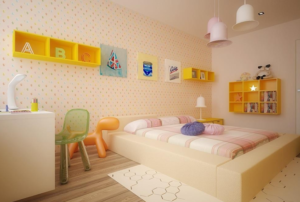 This is a very subtle yet suave room interior. It is soothing to the eyes and is also functional on all levels. This decor has the right amount of aesthetic features. This design is inviting and absorbing. The mild blend of yellow, white and pink with the artful patterns is just the best choice for your child's space.
10) The Elegante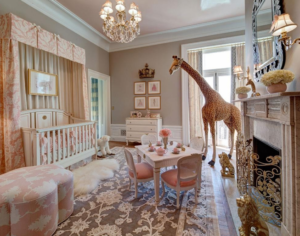 Beautiful and ravishing details of this decor specifically on the flooring, couch, and the curtains stand out vibrantly. Adding an animal figure in the interior of the child's room gives that friendly and fresh appeal.  This design emits elegance and gives a surreal look. This Interior provides a pleasant nurturing environment for your child.
11) Simple Euphoria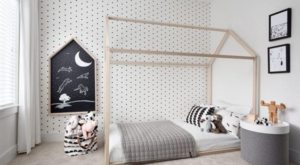 If you are a minimalistic who is not flattered by the fancy or ravishing decor this is the best alternative for your child's space. This is a simple and sound interior which radiates humility and kindness. In a world so superficial, let your child grow in an environment which is real and modest.
12) The Cool Blue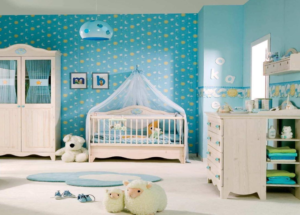 This universally liked colour possesses the power to lower blood pressure and heart rate. Now you know that the colour blue can indeed do wonders for your baby's health and harmony. The white shelves and flooring are complementing the blues giving life to the walls of your child's room. Cubes Interior Solutions help you take a further step as we help you pick colours which reflect your child's persona.
13) The Nature Nurture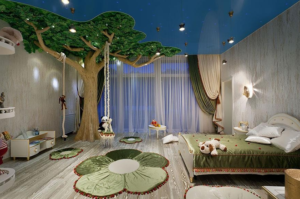 This fast paced era is under the shackles of technology resulting in zombie style of lifeless living. Here is your chance to bring your child closer to the nature in this cosmopolitan habitat where we inhale pollution and exhale the constant hustle. This thoughtful style of interior provides a habitat which will help your child grow into a nature and peace lover.
14) The Turquoise Dream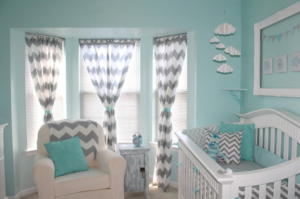 One of the most imperative elements to keep in mind while planning a good baby room furnishing is the usage of colour. Using the colours which induce peaceful environment is of paramount importance.
This interior design is an ideal one with the ever pleasing hues of turquoise and shades of beautiful greys. The patterns are chirpy and the white is creating a sense of divine balance.
15) The Joyful Sharing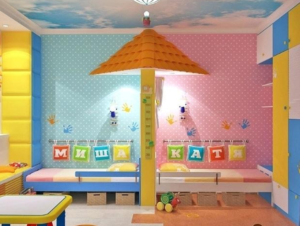 Which is the first moral value we teach to our children? Yes! You're right it is sharing! Happiness is all about sharing, caring and spreading love! This interior is a treat to the eyes. It also has the elements of fun with the addition to the contrasting colours of cool blues, perky pinks and the cheerful yellows. This decor helps your children create a strong and special bond with their siblings. Let them understand the significance of having a family at a tender age!
16) The Baby Carriage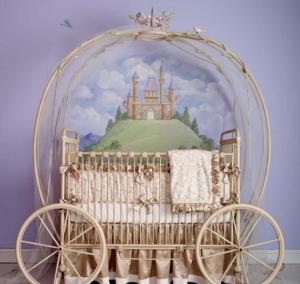 Every parent wants their child to get the best experiences in life. Why not start off with adding this unique, fabulous and opulent bed carriage in your interiors, exclusively for your little one. The carriage is aesthetically brilliant and guarantees safety and comfort. The forte of this decor is that it fits brilliantly in compact spaces too. Let your Prince/Princess shine bright like a diamond and enjoy the royal comfort.
17) The Bright Vibe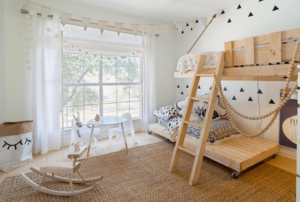 There is nothing better than the natural light falling in your interiors. The natural light has the capability to spread positive energy and a sense of rejuvenating. This style of design is an ideal interior for your children. It has cosy corners where your children can fuel their imaginations through playing, painting, reading or doodling! Create a room which makes room for some super sweet memories, to cherish on.
18) The Boho Burrow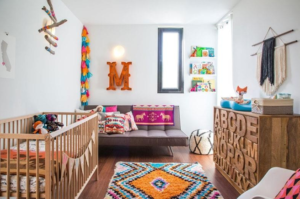 This decor is so lively, charming and super attractive that one can never go wrong with this.  Your baby is going to surely wakeup with a smile in his/her heart. This interior has fun accessories, finer details and a perfect blend of contrasting colours.
19) The Green Delight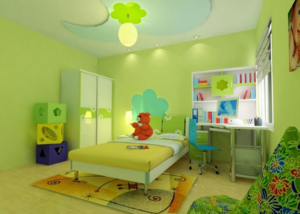 You won't believe the difference colours can make to your interiors! Calm and soft colours like green will console and soothe children on the other hand harsh colours usually cause a sense of irritation. The colour green induces a relaxing atmosphere. This interior is suitable for a school going child as it helps in concentration and focus. This decor contains cute accessories too which enhance the look to a greater one. In this design the bed is organised in a systematic manner to provide safety and an astonishing visual.
20)The Ocean Beauty!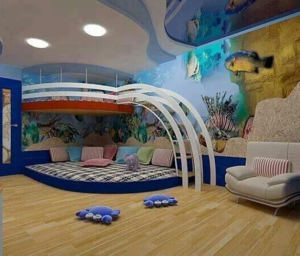 Let your child explore the wilderness! Go for this room decor to give your child a beacon to discover the wonderful nuances of nature. Inspire your children to dream as big as the ocean and support them while they dive into the journey of life to make their dreams come true.
21) The  Creative Hideout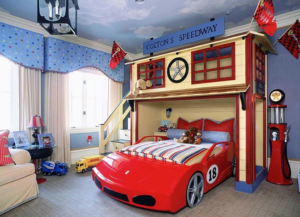 Let your child's quirky persona mirror in the interiors. Having a creative theme to your child's room will add the wow factor and a splendid visual appeal. This style of design is modern, playful and the go-to style! Let your child's room appear as cool as your child!
22) The Stunner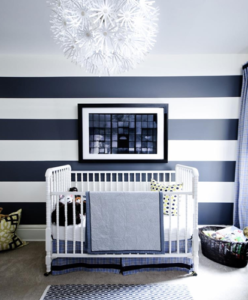 This design is a blend of sophistication and harmony. It invokes an exciting feel. The beautiful floral chandeliers are must haves in the interiors of your baby's room. Imagine the joy your child is going to experience while they gaze at these chandeliers as they lay in their crib. The white and blue colour scheme works like a charm! This decor is an instant eye grabber and soul healer.
23)The Dreamy Plush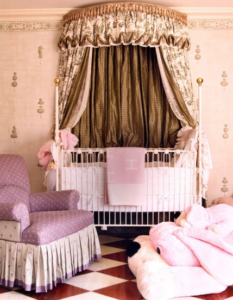 Why go the simple way when you can be grand, fancy and extra? The exceptional canopy over the bed makes a royal statement while echoing a magnificent vibe. The key to designing your child's room is to have uncompromisingly plush and luxury decor which your child truly deserves.
24)The World at Your Feet!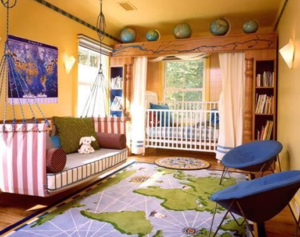 Here is a simple yet a profound gesture of showing your love and consideration towards your progeny! Nurture your child in a space like this and bring out the best in them. This interior is an instant happy pill. The aesthetics and thoughtful accessories, patterns and textures make this interior a special one.
25) Bold and Bountiful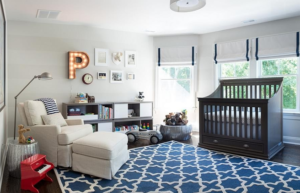 This generously spacious interior filled with the whites, colossal patterns and the bold blue give a vibrant character to your baby's space. The accessories are very pretty and they are adding a tinge of creativity giving a seamlessly gorgeous feel to the room.
A child's space needs to be both practical and functional. It is important to have a neutral background at the same time don't forget to add a character to the room. It could be a wallpaper of cartoons, animals or stars.
Next, the furniture comes into play. You need to be extra vigilant and thoughtful while choosing the right furniture. The right furniture is the one which can be easily adapted by your little ones.
The key is to have soft furnishing in order to achieve a safe and clutter-free environment.One of the finest and top residential interior designers in Bangalore ; Cubes Interiors are here to make your space a magical one.
Along with being a strong role model and a mentor, a parent also needs to pay extra attention to the child's meticulous needs. It all comes down to catering to the little things of your little ones. Your house is the second home of your baby after the womb.
Remember that your home has replaced the motherly womb and now you need to match to the standards of comfort and care at a whole new level.
A womb which nurtures life, a womb where the child is heard, a womb where the child is unconditionally accepted, a womb where there are no judgements, a space where a family is created and a bundle of joy is shared every day. Let both the children and your decor; shine bright and achieve greatness!
Read:http://cubesinteriorsolutions.com/blog/renovation-is-important-for-home-before-selling/