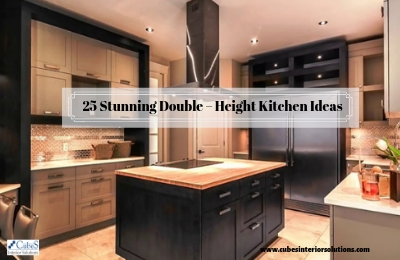 25 Stunning Double – Height Kitchen Ideas
Stunning Double – Height Kitchen Ideas
The kitchen is a place where you cook memories. It is rightly said that, Kitchen is the 'heart of the house' without which the house lacks the circulation of happiness and joy. It is a multifunctional interior which honours the bonding of human relationships. It is a place where we celebrate dining and living! This significant part of the house needs that exceptional meticulous attention. Cubes Interior Solutions, is recognised as the Top Residential Interior Designer in Bangalore. We find immense pleasure in building Kitchen decors which give a cherishing experience to both the host and the guest.
Kitchen designs can be traditional or contemporary. It can be royally massive or cutely compact. The interiors can be well- ventilated or gracefully illuminated. Apart from the aesthetics, the most important ingredients for a productive kitchen interior are loads of love, warmth and most essentially functionality.
Cooking is the art of experimenting with the edible elements which nourish our soul! And the place where these serious experiments take place is nothing less than a laboratory.
Upgrade the 'heart of your house' to an exceptional one! Here is a list of handpicked Kitchen Designs which will leave your guest's mouth, watering even before the food is served!
Hello Yellow!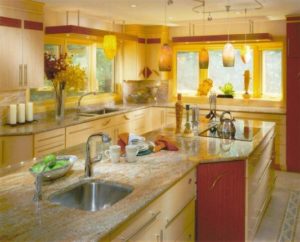 Yellow elicits socialization and excitement. This is an effortless way to make your kitchen more amiable and remarkable. The right density of illumination gives a very charming sense to your space. With the hues of yellow and orange, along with the marble textures you can renovate your kitchen into a cheerful cookhouse.
The Cave Kitchen!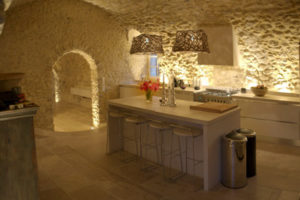 Smash the mundane style of Modern Kitchen Interiors and evolve into this earthier-feels kitchen. This decor is embedded by natural rocks. The wooden cabinet too, is given a touch of organic vibe. It is a perfect choice for those who want to highlight creativity in their interiors. A warm and cosy style of design, stirring your friends and family closer while adding a captivating visual to your home is what you need!
The Plush Kitchen and Diner!

Why think small when you can dream big? Add this grand kitchen setting filled with Candle chandeliers, colossal windows, hues of white, silver cabinets, a wooden dining table and an elegant ceiling.Always believe in your dreams and let your interior reflect your dream style.
Happy Blues!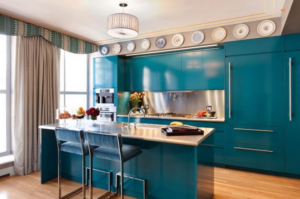 The interior which contains the colour 'Blue' is an interior for all! The colour of the sky and the ocean construct a friendly and pleasant decor which is suitable for any type of residents. This interior is practical, organised, and spreads a mood of tranquillity.
The Contemporary Kitchen !

Upgrade your kitchen into a decor which mirrors the present times. This is a great kitchen interior for the modern lifestyle. It is the 'Kitchen in Style' which is well qualified for this fast paced fashion. Flash your modernity with this contemporary kitchen setting.
The 90's Swag !

Here's presenting the nostalgic 90s in a form of gracious kitchen interiors. It is suitable for a double-heighted kitchen space as well the regular one. Filled with chequered pattern flooring, mild hues of colour cabinets and cupboards, and a glossy dining space which totally represents the retro style of those golden days.
The Classic White!

This is a 'comfort design' which never goes wrong or out of style. The classic decor emitting ultimate sophistication in the most simple manner is 'In style' since time immemorial. White is usually applied in minimalistic designs yet it stands out significantly here. This interior makes the space appear large and gives a lively impression.
The Luxury Kitchen!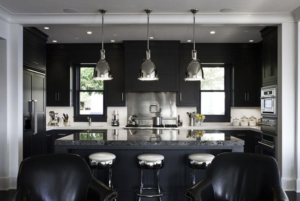 The powerful black kitchen decor might just be what you are looking for. It is a very polished and urbane design. A dash of silver and the ideal perception of balance makes it an extraordinary design. Cubes Interior Solutions, the Best Interior Designer in Bangalore are here to create an interior which perfectly fits your family's cosmopolitan character.
The Stunner !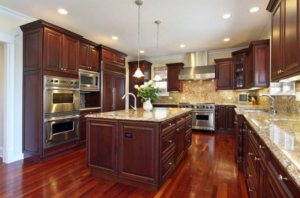 This beauty is an absolute stunner. Get this modish kitchen vibe in a jiffy at Cubes Interior Solutions.This style culminates pinches of traditional interiors with respect to flooring and colours.This is a royal and smart decor which is purely functional and also an instant eye-catcher.
The Symmetrical Pleasure!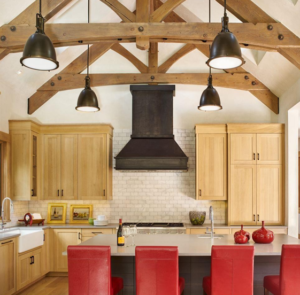 The ceiling steals the spotlight here. It forms the core of the kitchen decor and the addition of red and traditional cupboards make it delightful. The interiors are uniformly placed which radiates a soothing visual.
Rustic Mexican Kitchen!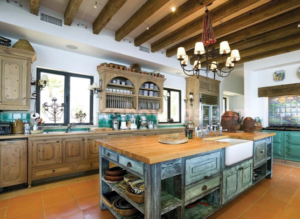 This design is a visual treat! Let your kitchen tell a playful and rustic story intriguing its audience. It creates a thoughtful impression about its residents. This decor is welcoming and cordial. Let your values of hospitality shine through your interiors! Personifying a homely environment, is the forte of this design.
The Wallpaper Walls!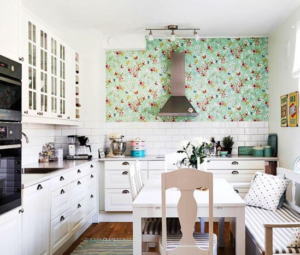 Introducing a wallpaper instead of the sole usage of marble or tiles, is a very current style of kitchen interiors. Energize your kitchen with this design to give it a dynamic and exhilarating look.
The Open Kitchen !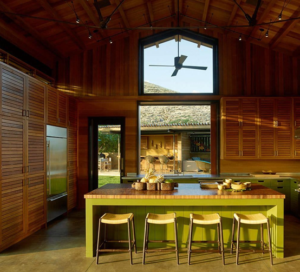 This is your ideal farmhouse kitchen. A breathtaking interior like this will not only give a significant impression but also immediately perks up the mood. Let your 'Vacay-kitchen' be so fascinating that even a person who hates cooking might want to experiment some dish!
 The Intimate Kitchen !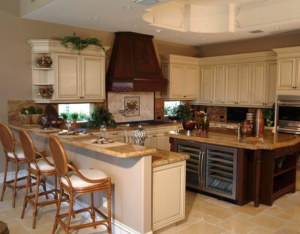 In interior designing it is imperative for a design to be absorbing and inviting. This space signifies a sense of intimacy and connects with its residents. It is a beautifully crafted design suitable for your beautiful family.
The Pleasant Perfection !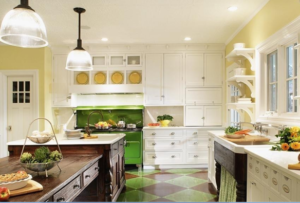 Let your kitchen interiors be a feast to the eyes! Renovate your kitchen into this excellent design. The flooring is exuberant, has multiple cupboards, the whites giving a spacious warmth and the green adding life to the space, this design might just be right for you!
Creative Elements !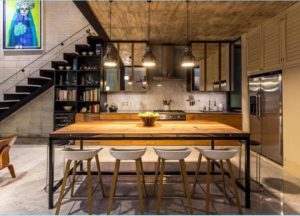 This design literally blows you away with its creative components and meticulous details. It is a user-friendly design for you and your family. This is not only aesthetically rich but also has an enduring durability.
The Simple Beauty !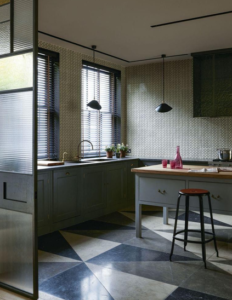 The design is apt for a simple and happy lifestyle. Though the interior is very minimalistic the wooden textured decor beams elegance and finesse. An uncomplicated craft for your happy and smooth functioning life!
The Green Dream !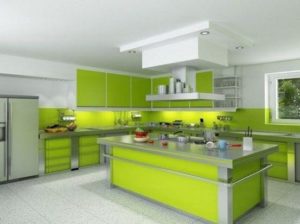 Tired of the boring white kitchens? Then this interior is made just for you. The colour green fills your cooking space with rejuvenating emotions. It also has amazing storage facilities, which are not only aesthetically captivating but also highly efficient.
Cottage Inspired Kitchen !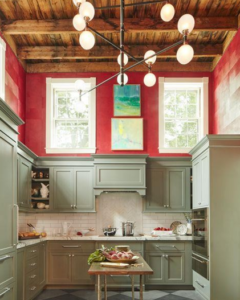 Do you dream of living in a cottage amidst the woods? Your imagination can be bought into existence with this stunning double- heighted kitchen design. This space echoes comfort and practicality. It has a lavish ceiling and divine decor making the place phenomenal and dramatic.
The Sleek One !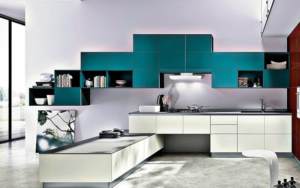 This is a flourishing style which is extremely stylish and sleek. It is as fashionable as a showstopper's outfit on a fashion ramp. It is a totally incredible glossy kitchen interior design which never fails to impress with its modernity and innovation.
Incredibly Organized !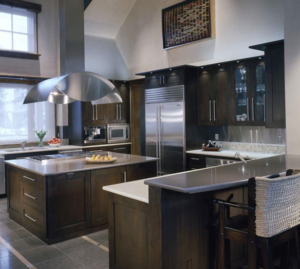 Kitchens are susceptible to clutter hence the simpler the better. This is one of the most optimal kitchen designs which facilitates, easy work flow. There is a faultless unity of emphasis, balance, proportion and scale which makes it a beautiful kitchen.
The Cool Cookhouse !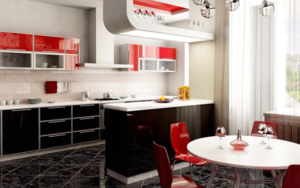 Red is a strong colour. Factually, it is a colour which increases the appetite.  White and red is a crazy combination which provides an interesting picture. Unadorned windows make the space well- ventilated and the shiny cabinets enhance the kitchen interiors with grace!
The Boho-Kitchen !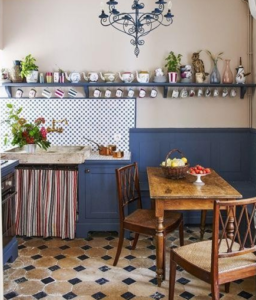 Lighten up the 'heart of your house' into a bohemian styled kitchen. This interior works like magic for compact spaces. The decor has purposeful accessories which gives a creative touch to this kitchen. This adorable kitchen is a must for your home sweet home!
Surreal Turquoise !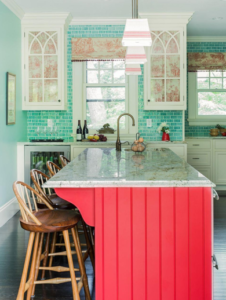 The striking feature of this kitchen is its scheme of complementing colours and patterns. It has a soothing colour palette and the incorporated elements are subtly stylish. It is a super sweet space which is lively, comfy and sparkling.
The Shine-Dine !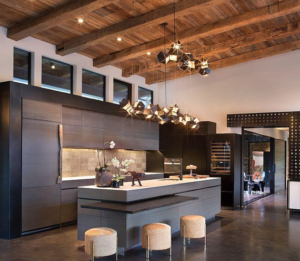 You were born to shine and so does your kitchen! The Gorgeous Gold, shades of dark brown, artistically illuminated, fabulous flooring, fluent furnishing and the outstanding accessories make this an aristocratic design!
A kitchen can be traditional, sleek, casual or modern. Most importantly it needs to have a vision. It needs to mirror your lifestyle and personality. A Kitchen needs a family and an interior design, which spreads love and warmth to its members. It is a space where you bond with your loved ones, a space where you share stories, a space which tells your story, a space which inspires good health and healing!
Get in touch with Cubes Interior Solutions and allow us to help you cook some special memories!
Read : http://cubesinteriorsolutions.com/blog/best-interior-designers-in-bangalore/